OMG this site is just YUMMY!!! I saw a post about it on Zarah's blog so my inquiring mind got the best of me! Ok, I am just plain nosy and OMG....the colors alone would keep me visiting this site!!!! It's called BAD GIRLS....and I also see my pal Cari Fennell (who is a major deal in the SB world IMO) there on the DT!!! So, now I have placed my logo here hoping they check me out!!! There is a chance to
win a RAK if the Patrol finds their logo on your site, in your siggie, etc.!!!
If you're BAD...click here!
http://www.badgirlskits.com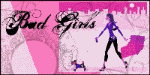 I swear every DIVA should check this place out! I have registered and now I await my approval, but I think I'll be hanging out a little to see what all these "bad girls" have up their sleeve!!!